Sorry this is late going out. It's been another busy reading year, and I didn't hit many contemporary fiction books I just loved (though I picked some--scroll down), but if you have nonfiction fans on your Buy list, there are some goodies out there...
For the
art history fan
:
This book alternates between one man's discovery of what he believes is a lost Velazquez painting, and art history/appreciation discussions of Velazquez himself and his existing, accepted works. For the right type of reader, this book is unputdownable, and on my last trip to NYC I dragged everyone to the Met to see their Juan de Pareja:
For the
hypochondriac
or the person who just loves to talk health:
Even before I read this book I was a yearly-mammogram resister and managed to wheedle my doctor into letting me slide every other year.
After
reading this book, I might work up the courage to bargain for every three years. Basically, the doctor/author's thesis is that there's a lot more uncertainty in medicine than folks will let on. A lot more false positives, a lot more stringency, leading to unintended consequences, a lot more unnecessary suffering on the patient's part. There's lots of data, but I didn't find it too technical.
For the
person who considered moving to France after Trump was elected
:
A fun memoir about the man who started the Breakfast in America restaurant chain in Paris. France basically puts the euro in Bureaucracy, and Carlson's adventures in business-owning and labor management will make you vow never to go as anything other than a tourist. Chances are, if Donald Trump struck terror into your fantasizing Francophile, that person won't be put off by Carlson's gay relationship, about which he is quite puppyish and a little cornball.
For the
history-lover who only wants to visit France as a tourist
:
I'm a David McCullough fan, having loved his Panama Canal and Johnstown flood books, and this one was no exception. I read it right before a whirlwind trip to Paris, so we were able to visit some of the places featured in the book. McCullough focuses on lesser-known Americans visiting the City of Lights, if you count James Fenimore Cooper and that senator who got beat-up in Congress as lesser known, along with medical students and artists. I stood outside Cooper's house near the Invalides and found the room in the Louvre which Samuel Morse painted: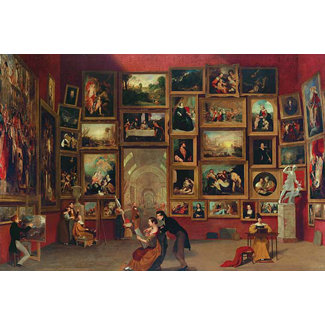 If your gift-receiver doesn't like looking at maps and illustrations, avoid this book. I ended up reading with a map alongside, but mainly because I wanted to do a self-guided walking tour.
For the
Midwesterner/sport fisherman/ecologist
:
I absolutely loved this book, a fascinating history of the Great Lakes that didn't end in the usual ecological hand-wringing, although there was plenty to wring my hands over as it went along.
Egan is a charming, funny, accessible writer who talks to all sorts without judgment, and he makes a winning advocate for these irreplaceable natural wonders. Explorers, politicians, fisherman, and citizens parade through this book--even Laura Ingalls Wilder's mother, Caroline Quiner Lake Ingalls, gets a mention! Having only seen Lake Michigan once when I was nine, I'm looking forward to another visit.
For those
history-lovers feeling nostalgic after our tumultuous election
:
I went on a miniature Kennedy kick this year, picking up the book on JFK in WWII because I love survival books, and being inspired by that wonderful read to pick up the Goodwin bio I bought my husband
last
Christmas. In a way it was fitting because Goodwin's book leaves off before JFK gets elected. As long as it was, it left me wishing for a sequel, to catch us up to date. Tell me about JFK's assassination! Tell me about JFK Jr and his plane crash! Tell me about Maria Shriver and Arnold Schwarzenegger! Oh, well. One word of warning on the Goodwin bio: it's old, so make sure your recipient doesn't already have it on the shelf!
For the
memoir fan
:
I'm not into Hollywood star memoirs because they don't seem to have much interesting or original to say when they open their mouths in general, so no recommendations in that direction. But one of the few memoirs I read this year was this very moving one about an orthodox Jewish family struggling with an autistic son. Lots of tears and wisdom and love.
For the
historical fiction fan
:
It's a tie. Although I liked Euphoria better, a love triangle set among anthropologists, loosely inspired by Margaret Mead. I especially appreciate how author Lily King made her extensive research seamless in the background and didn't barf it out all over us, as historical fiction writers are wont to do.

Not that Sue Monk Kidd falls into that trap either, although her scenery (the antebellum, slave-owning South) creaks more. The story alternates between a fictional slave girl and the historical Sarah Grimke, who grew up in Charleston but became a women's-rights and abolition activist along with her sister.
That's all for this year! Hope something on this list will cross someone off of yours...